I love working with teens because they keep me young!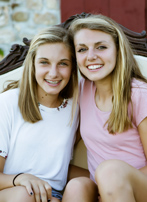 Here's my philosophy in treating teens: this is the best age to give them a chance for the healthiest bite and beautiful smile for a lifetime. Did you ever notice how a great smile goes a long way to boosting self-confidence and overall health? Another great advantage is that teen metabolism is on our side - teeth are responsive and growth is such a great help! As a parent, this is a gift you give your children. My team and I will support this, and foster a positive experience for them. We make treatment fun and rewarding.
Advantages to treating growing patients:
Bone metabolism is at its best, which can make treatment more efficient and successful.
Growth problems (shifting bites, narrow palates, recessed chin) can be normalized.
Teeth can erupt healthier for healthier gums.
Straight teeth can mean better self-esteem, and much easier cleaning.
You can have a proper bite for a lifetime and minimize improper wear/loss of tooth structure from wear.
In addition to traditional steel braces, treatment options for teenagers may include ceramic/clear braces, or Invisalign Teen®. We look forward to helping your child achieve the smile of a lifetime! A referral from your dentist is not necessary to schedule an exam, so please contact us if you would like a complimentary evaluation for your child. To learn more about your first visit with us, click here.