Fortunately, urgent orthodontic problems are rare, but after hours help is available if you need it! Your time is valuable. Dr. Diane will do her very best to help you virtually first.
---
I just got braces...
It is normal to feel general soreness when your braces go on, and teeth may be tender for three to five days. Stick to a soft diet until your teeth feel more comfortable. Cold foods and drinks can also help reduce the discomfort. An alternating schedule of Advil (Ibuprofen) and Tylenol (Acetaminophen) for the first few days can also help quite a bit. Let us know if you need help with this.
Irritated gums and other sore spots can be relieved by using with a warm salt-water rinse. Simply dissolve 1/4 teaspoon of salt in eight ounces of warm water. Remember, good hygiene also speeds healing since plaque has bacteria!
As your lips, cheeks and tongue become accustomed to the surface of the braces, you can use a pea-sized amount of wax on the brace or wire. Alternatively, you can also use Orabase on the affected tissue to help relieve discomfort. Orabase can be found in pharmacies and grocery stores.
Loose brace/bracket
Please call during business hours so we can determine the urgency for a repair visit. In the interim, try using wax to stabilize the brace.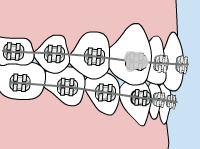 Poking wire
If a thin metal wire untucks from around the brace, use a pencil eraser and gently tuck the poking wire under the main wire. If a wire is poking in the very back, try using a pea sized amount of wax to cover over it. Any soft tissue irritations can be treated with a warm salt water rinse (1/4 teaspoon of salt dissolved in eight ounces of warm water), rinsing three to four times a day. If the remedies are not helpful, call the office for further assistance.