Brushing Your Teeth and Appliances
With appliances, it's even more important to brush after meals to keep your teeth and gums healthy throughout treatment; flossing only has to be once a day. Your oral hygiene matters so much to us that it's the first thing we check when you come in for your appointments! Did you know that in addition to cavities, poor hygiene can actually slow down your orthodontic progress? If you ever need a review on techniques just ask! Check out some of our handy tips below.
Brushing with Braces
Brush your teeth for two minutes after every meal with a soft-bristled, small-headed toothbrush and fluoride toothpaste. As an alternative, you can use a powered toothbrush to increase your brushing effectiveness. Brush the outside and inside surfaces of your teeth using small, gentle, circular motions while positioning the head of the toothbrush at a 45-degree angle to the gum line. Brush your teeth's chewing surfaces and the inside surface of your front teeth using short, gentle, back-and-forth motions. Pay close attention to the areas around your brackets or other appliances.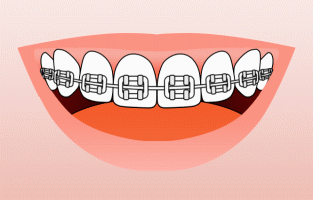 ---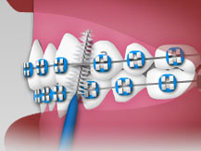 Remember to use your Christmas tree brush each time you brush. This removes plaque and debris under the wire between all the braces. This should be done even if you use an electric brush.
Tip

: Electric brushes and manual brushes work equally well, as long as you focus on proper technique and time.

Tip

: Brush right after dinner - don't wait when you're really tired!

Tip

: Brush your front teeth first and focus on them in pairs

---
Flossing with Braces

Flossing after every meal will help keep your teeth and braces clean, which will also help keep your treatment time on track. To floss with braces, use a floss threader or special orthodontic floss to thread the floss behind each wire. Wrap the ends of the floss around your pointer fingers of both hands, leaving a few inches of taught floss between them. Gently slide the floss between each set of teeth using a back and forth motion. Floss the sides of each tooth beneath the gum line to remove plaque and food particles. Repeat this process until you've flossed all of your teeth. If you find that your floss is not removing all of the food particles between your teeth and around your braces, ask us about a water flosser!

Tip

: Other wonderful alternatives found in pharmacies and grocery stores include the Platypus Flosser or SuperFloss.

Tip

: Floss your top teeth after school, and your bottom teeth after dinner; that way you won't be tempted to skip it when you're tired before bed!

---
Brushing Aligners

Your aligners should be nearly as clean at the end of two weeks as they were when you opened them on Day 1. Even though they are plastic, they can accumulate plaque. After brushing your teeth, rinse your toothbrush and brush the aligners for two minutes. Rinse only with cold water. Warm water can distort your aligners. An electric toothbrush works great with a whitening toothpaste! (We don't advise soaking them in mouthwash.)

---
Brushing and Flossing Expanders & Space Maintainers

Be sure to keep all the parts of these appliances clean. For expanders, we recommend having a basic WaterPik to help loosen debris, prior to brushing. When brushing your expander, be sure to clean the screw, the plastic and the wires. With Space Maintainers such as lingual arches, Nance appliances, or band and loops, be sure sure to brush the band, wires and any plastic parts. Believe it or not, you can actually floss routinely with any of these!

---